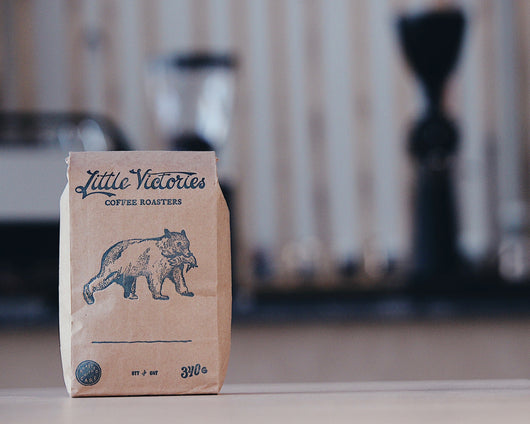 Ethiopia Suke Quto - Honey Process
Regular price $22.50 Sale
Notes of strawberry, buttercream, mango.
Suke Quto farm is an absolute flagship of the Guji zone in Ethiopia. We first purchased from this fabulous farm in 2018, and all the coffee produced at Suke Quto is certified rainforest alliance organic! The farm operator, Tesfaye Bekele, is a pioneer of the Guji region and works with 171 outgrowers that deliver cherries to the Suke Quto Washing and Drying Station. 
What makes the honey process different from the more traditional washed process, is it is almost a hybrid process sort of in-between natural process (huge flavours, acidity, primitive methods) and the washed process (what has become the standard coffee processing method.) Honey process means the fresh coffee cherries are pulped, but allowed to dry without washing. This keeps some of the fruit on the cherry, creating a golden, honey-like mucilage which is left on the bean until milling. This process saves water, and allows the mucilage to be removed physically during milling, rather than being removed via water during the wash process.
Contrasting to the bright, high acid washed process lot, this coffee is much more syrup driven. Berry, stonefruit and a rich creaminess make this honey a spectacularly sweet example of Ethiopian excellence. It's exactly why we love buying coffees from this region. We also purchased the washed process Suke Quto lot this year as well.
This coffee was sourced in partnership with our friends at Trabocca, based in the Netherlands. Trabocca is one of the premier sourcing partners with established multi faceted relationships based in Ethiopia, and one of the global leaders of sourcing from this region. This coffee is fully traceable, directly through Trabocca's channels. We are proud to have Suke Quto back!
Varietals: Kurume, Welicho (Heirloom Ethiopian Varietals)
Region: Oromia, Guji, Ethiopia
Altitude: 1800-2200 MASL
Processing: Honey